THESE THREE FACTORS SHOW BITCOIN WILL SEE A MASSIVE SELLOFF AT $10,000
Bitcoin has seen some incredibly mixed price action as of late, with BTC struggling to garner any notable momentum as it approaches its heavy resistance $10,000
This resistance has proven to be insurmountable on multiple occasions throughout the past several weeks and months
One analyst is now noting that BTC's ongoing rally up towards the five-figure price region is strikingly similar to that seen in months past
Three factors signal that this rally could be fleeting in the days and weeks ahead
Bitcoin and the aggregated crypto market have entered a firm consolidation phase over the past few days as it struggles to garner any notable upwards momentum.
It has been able to stabilize within the mid-$9,000 region, but the resistance laced between $9,700 and $10,000 has proven to be insurmountable.
One analyst is pointing to three primary factors as reasons why this ongoing uptrend may not be different than those seen in weeks and months past.
He explained that in addition to the spot order books being skewed to the seller side, there is a lack of bid-side filling and swindling derivative interest.
THESE THREE FACTORS COULD SIGNAL A SWIFT BITCOIN SELLOFF IS IMMINENT
At the time of writing, Bitcoin is trading down marginally at its current price of $9,550, which is around where it has been trading at throughout the past couple of days.
The crypto has found itself caught within a firm trading range between $9,300 and $9,700. The resistance at the upper boundary of this trading has grown to be quite strong, as each visit here has been followed by intense declines.
One analyst is noting that this rally is strikingly similar to those seen in weeks past. If Bitcoin does replicate the price action it has seen around $10,000 in weeks past, it could soon see a notable decline.
"So far, the current BTC approach to 10k has shared elements of the prior two • Spot books heavily skewered to the sell side • Lack of bidside backfilling • No substantial derivatives interest (to cause a short squeeze). The only marked difference is ETH strength," the trader said.
HOW LOW COULD THIS NEXT DECLINE LEAD BTC?
As for where this decline could lead the cryptocurrency, analysts believe the recent rejection at highs of $9,700 could spark a movement down to lows in the $7,000 region.
He pointed to a chart showing this potential path forward in a recent tweet, highlighting the firm rejection that was posted at $9,700 this past week.
"Bitcoin: Still short, now with a clear invalidation. This is what I'm expecting next," he explained while pointing to the chart seen below.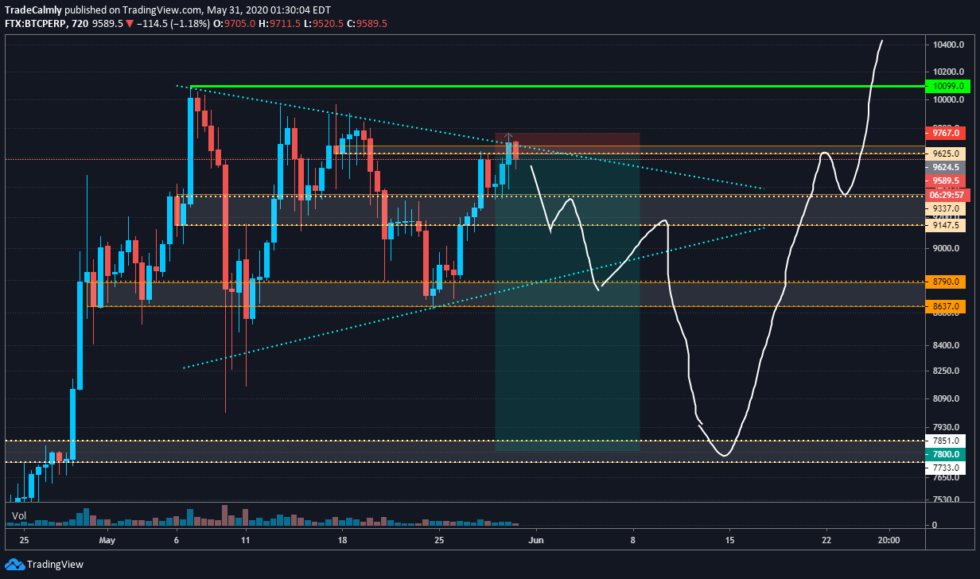 How Bitcoin trends in the week ahead will likely be largely determined by whether or not it breaks below the lower boundary of its trading range at $9,300.
source: bitcoinist.com