LeBron James has message for racist 'fan' who wrote Lakers owner Jeanie Buss
Los Angeles Lakers owner Jeanie Buss marked Juneteenth with a message to her white friends to "do better."
She shared an ugly letter on Instagram from a self-proclaimed "huge Lakers fan" addressing her as "whore," referring to NBA players as a racial slur and urging her to join late Lakers great Kobe Bryant.
Again — the letter is vile:
Buss' message to white friends
So why share the rant of a clearly racist, sexist hateful man?
Buss wanted to shine a light on the kind of thinking that's enabled racism to thrive in the United States 155 years after the last Confederate slaves were emancipated. While not all racism is as clearly overt as Joe's, Buss urged her white friends and followers to identify and address racism of all kinds.
"On this day, Juneteenth, I ask my white friends to join together, acknowledge the racism that exists in our country and around the world, and pledge to stop ignoring it," Buss wrote. "We all must do better."
Lebron: 'Love you Jeanie!!!'
Lakers star LeBron James included Buss' message on an Instagram story Friday afternoon with a caption reading "Love you Jeanie!!!"
He also delivered his own personal message to Joe.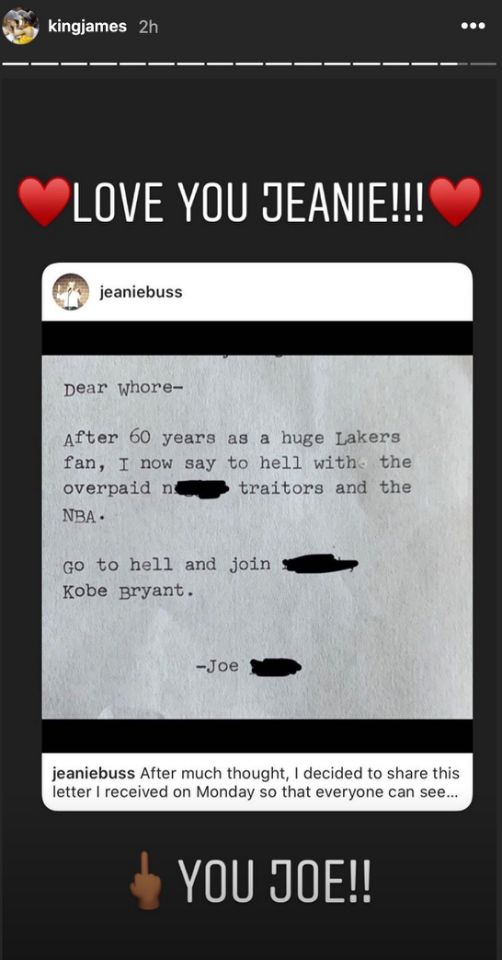 Source: yahoo.com