Damon "Snacks" Harrison Could Complete Cowboys' DT Makeover
Although subtle, the Dallas Cowboys new coaching staff under Mike McCarthy have made a few under the radar changes since taking over this offseason. One such change is their philosophy regarding the types of players they are looking for along the defensive line, as evidenced by the free agent signings of Gerald McCoy and Dontari Poe.
Bringing in Gerald McCoy isn't really out of the norm for the Dallas Cowboys. He would've fit in just fine in former Defensive Coordinator Rod Marinelli's defensive scheme, but we can't say the same for Dontari Poe. Marinelli seemed to have a distaste for the bigger bodied/space eating defensive tackles, but that looks to have changed under the Cowboys new DC Mike Nolan.
Mike Nolan and Jim Tomsula, the Dallas Cowboys new defensive line coach, are in charge of the transition from Marinelli's way of thinking to their own. They've already started the makeover by bringing in Gerald McCoy and Dontari Poe, but I don't think they should stop there. For whatever reason, Damon "Snacks" Harrison is still on the open market and his addition could complete the DT makeover.
Damon "Snacks" Harrison was a wrecking ball in the interior as a member of the New York Giants, a division rival of the Dallas Cowboys. He was named first-team All-Pro in 2016, racking up 86 combine tackles (six for a loss) and 2.5 sacks. The next two seasons he notched at least 76 combined tackles and 3.5 sacks in 10 games with the Detroit Lions after being traded in October 2018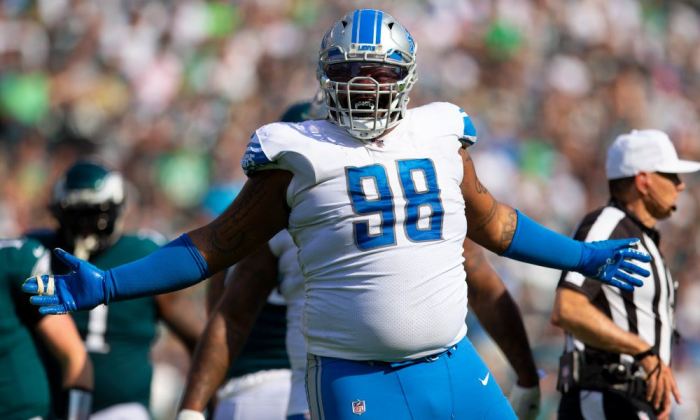 Harrison unfortunately hit career lows in 2019. With just 49 combined tackles and two QB sacks, the Detroit Lions decided to release Snacks in a salary cap saving move to save $6.8 million. The 31-year-old DT – 32 in November – is now a free agent free to sign with any team of his choosing. That team could very well be the Dallas Cowboys.
Despite already signing a big bodied, space eating DT Dontari Poe in free agency, the Cowboys are still in need of more depth on the interior of the defensive line. As things stand right now, they have nothing behind Poe at the one-technique. That's where Damon Harrison could factor into the equation.
Harrison is a resident of the Dallas area. He would probably love nothing more than to stay close to home and play for the Cowboys. However, in order to do so he would have to be willing to accept a backup role. For a player used to receiving the lion's share of the workload that could be a tough pill to swallow, however, maybe not a dealbreaker.
Snacks could view joining the Cowboys as his best opportunity. He would get to stay close to home and join a team who many believe have Super Bowl aspirations. Dallas on the other hand would not only upgrade the depth at DT, but provide added insurance if anything were to happen to Dontari Poe. To me, that sounds like a win-win situation for both parties.
source: insidethestar.com