Someone Just Paid Whopping $2.5 Million to Transfer $133 Worth of Ethereum
An unknown person has paid approximately $2.5 million just to transfer a token of $133. The information available on Etherscan shows that the someone, more than an 2 hours ago, transferred 0.55 Ether ($133.85) with a transaction fee of 10,668.73185 Ether ($2,596,342.58).
The man, with an address starting with 0xcDd6a2b9DD*****, has around 46,421.13 Ether ($11,290,548) in his account after executing the transaction. The transaction was mined by a lucky Spark Pool miner on block 10237208.
One might be thinking the transaction was intentional, but the same user also made a transaction of 0.549139 Ether ($133.50), paying a fee of 0.000861 ($0.21), a few minutes after the first transaction.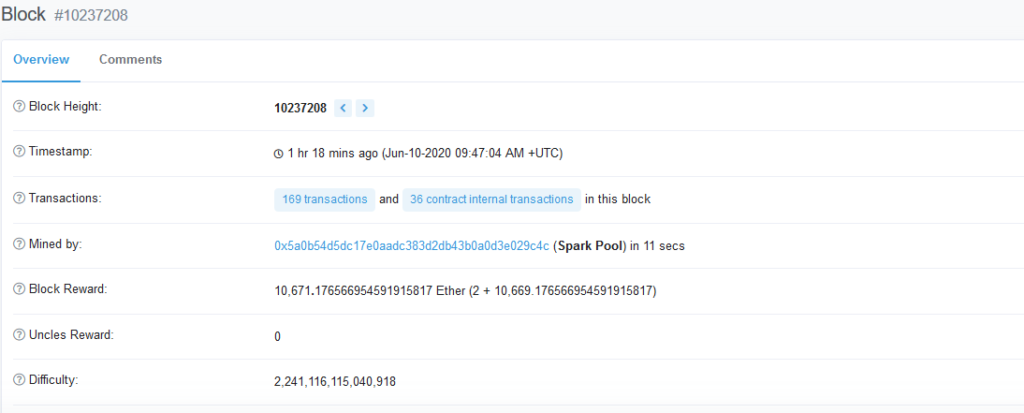 Not a New Thing
This is not a new thing, in February 2019, an unknown user also paid $300,000 in Ethereum for a transaction worth $14.71 in Ether. The user made a transaction of 0.1 Ether but ended up paying 21,000 Ether.
The payment was arguably made by mistake as no one would intentionally pay a high transaction fee for a fund like this. Also, there are other transactions done on the same account at a similar cost and almost at the same time.
The user at that period transferred 0.02 Ethereum and paid a fee of 420 Ethers. The same person transferred 0.01 Ether and paid 210 Ethers as transaction fees. He also sent 0.02 Ether with 840 Ether.
At the time, shortly after the transactions, the wallet had around $86,000 and had made 17,694 transactions altogether.
Wallets Ready for Ethereum 2.0 Upgrade Nears 120,000
Data from Nanse.Ai has confirmed that about 120,000 crypto wallets are primed for the much-awaited launch of Ethereum 2.0. The Ethereum 2.0 continues to create ripples in the crypto industry as it is expected to enhance the Ethereum Network and also revamp the design and scalability of the blockchain network.
As revealed by Arcane Research, a crypto tracking analytical platform, the number of wallets that are fit for the upcoming Ettehreum 2.0 upgrade have surged by 13% in the last 1 year. For a blockchain wallet to run the ETH 2.0 staking node successfully when launched, it has to have not less than 32 ETH in its account.
As captioned in the chart by Arcane Research, the number of wallets with not less than 32 ETH has been on a significant rise since 2017 and we now have close to 120,000 wallets with the required minimum amount.
However, the proposed migration to Prof of Stake protocol has seen a slight delay for some time now.
Source: newslogical.com