Raikkonen receives a special delivery from Ferrari
Kimi Raikkonen has been gifted his final Formula 1 race winning car by Ferrari.
Raikkonen took the 2007 Formula 1 drivers' title with Ferrari during his first stint with the team, the Finn still the last driver to achieve title success with the Scuderia, but his second spell in Italy yielded just a single victory.
Crossing the line to secure victory in the 2018 American Grand Prix, Raikkonen set a new record for the number of races to take place between wins, the Finn going 112-race starts between trips to the top step of the podium – his previous victory coming in the 2013 Australian Grand Prix with Lotus.
Another record claimed with his win at the Circuit of the Americas was the longest time between a drivers first and final wins, taking the record held by Michael Schumacher at 5,145 days, and stretching it to 5,691.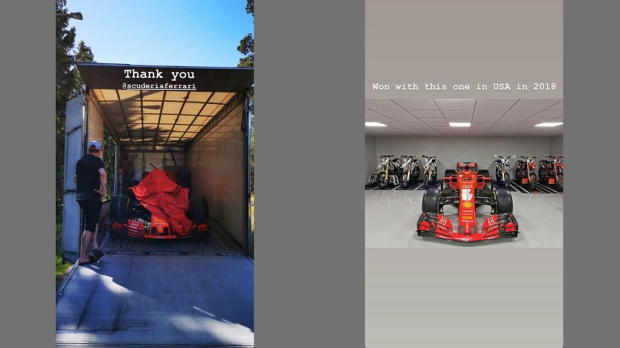 As recognition for his services to Ferrari, the time totalling eight years across two stints, Ferrari sent the special delivery to the Finn.
The Ferrari SF71H now sits proudly between Raikkonen's collection of dirt bikes.
source: gpfans.com