Litecoin Under Pressure Again as "Death Cross" Appears in Chart
Litecoin (LTC) is again facing pressure from traders who wonder if the price will be able to pick up the momentum necessary to recover the losses from the major market crash on March 12.
As of press time on Wednesday (10:22 UTC), litecoin was down almost 1% over the past 24 hours, trading at USD 38.7 per coin. At the same time, bitcoin (BTC) fell 1.3%, to USD 6,368. LTC outperformed BTC in the past week also, as it's down 4.5% (BTC dropped 7%).
From a charting standpoint, the relatively weak performance seen in litecoin as of late has now brought the 50-day moving average line below the important 200-day moving average, forming the feared "death cross" in the chart. The new death cross comes just 6 weeks after the opposite signal – a "golden cross" – was seen in the same chart.
As the name implies, the death cross is widely seen as a bearish signal that indicates lower prices to come. However, it should also be noted that history has shown us that this isn't necessarily an accurate indicator for the crypto market, as most recently exemplified by the lack of bullish trading after the golden cross in February.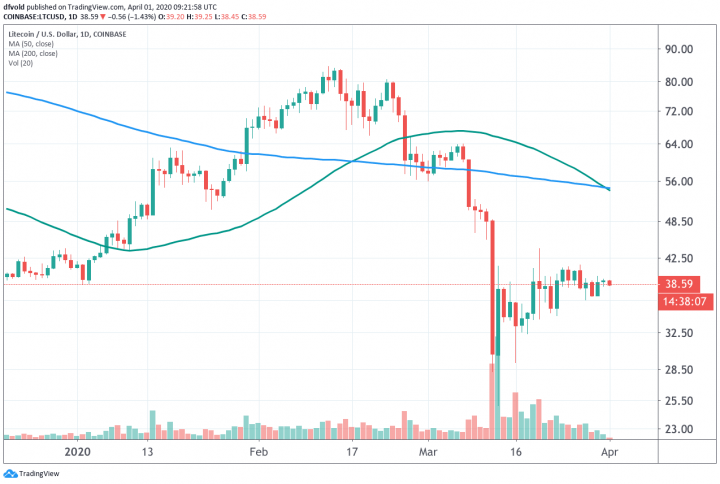 Litecoin, along with EOS and XRP and BNB, are the only cryptoassets in the top 10 by market capitalization that have seen a death cross appear in their charts this year.
Litecoin also received some attention from the community back in late February when it was announced that the Litecoin Foundation had entered into a partnership in South Korea that would enable fiat withdrawals in Korean won from Litecoin wallets. However, the news has so far failed to excite traders, who instead sold coins and pushed prices lower in the weeks that followed.