Life Summary: Melania Trump, Foreign-born First Lady
Melanija Knavs dropped out of university to become a model and ended up marrying the man who would become 45th President of the United States. This is the summarised life story of the present First Lady of the United States, Melania Trump.
1970 – Melanija Knavs is born in Yugoslavia to a car seller and textile worker. She has a younger sister and would later discover she has an older half-brother from her father's previous relationship.
Age 16 – She begins modelling.
Age 18 – She attends the University of Ljubljana but leaves one year later to pursue a modelling career after joining an agency in Milan. She changes her name to Melania Knauss and finds success as a model in Milan and Paris.
Age 21 – The state of Slovenia where Melania is from becomes independent from Yugoslavia.
Age 22 – She becomes runner up in a Slovenian women's magazine's 'Look of the Year' contest.
Age 26 – She goes to New York where she appears on the covers of magazines and works with well-known photographers.
Age 28 – She meets Donald Trump at a fashion industry party in New York City. He is still married to his second wife at that time and she refuses to date him. Eventually though, they develop a relationship and she joins him for the opening of the New York Film Festival.
Age 29 – She appears on The Howard Stern Show with Trump via phone in and discusses their sex life.
Age 30 – She appears in Sports Illustrated's swimsuit edition. And poses nude for GQ magazine. She and Trump split up but later reconcile. In the years that follow they continue being seen together at high profile events.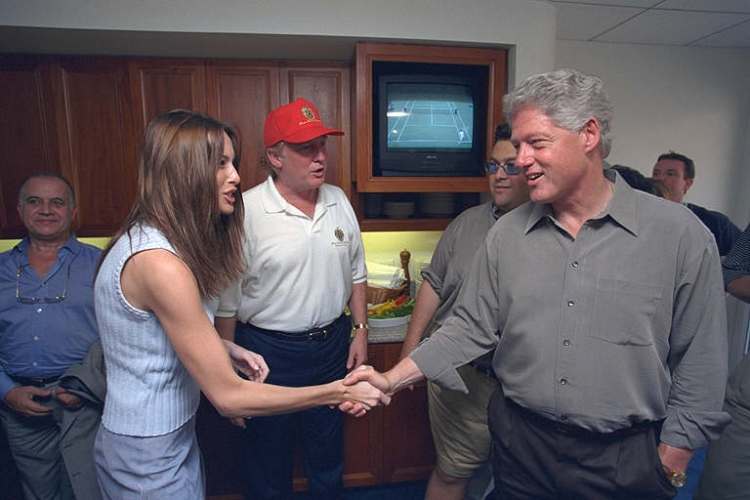 Age 34 – Donald Trump proposes with a 12-carat ring.
Age 35 – She marries Donald Trump on his estate in Florida. Bill Clinton and his wife Hillary Clinton are guests at their wedding. Shortly after, they appear as a married couple on Barry King live.
Age 36 – She has her first child, Barron Trump and becomes a U.S. citizen. She also markets jewelry and develops a line of caviar-based skin care products.
Age 46 – During her husband's presidential bid, she gets pushed into the spotlight. Her nude photoshoot from 2000 begins circulating the internet. When she makes a speech that sounds similar to Michelle Obama's, she is lambasted for plagiarism. Her husband becomes president and she becomes First Lady of the United States, the first to be born in a communist country and 1 of just 2 foreign-born ones.
Age 47 – She and Donald have their first dance as FLOTUS and POTUS. She moves into the White House but they apparently keep separate rooms there. In Slovenia, her image begins to appear on cakes, underwear and tourism advertisements. She threatens a Croatian language school with legal action after they use her image in an ad with the slogan: "Just imagine how far you can go with a little bit of English."
Age 48 – She launches the Be Best initiative to fight cyberbullying and sits down for a tell-all interview with ABC. She also ends up in the hospital for 5 days after an embolisation procedure.
2020 – Melania is presently 50 years of age and is still the First Lady of the United States.
Source: luck-it.net