IT'S A CRITICAL MOMENT FOR BITCOIN AS ANALYSTS EYE A MOVE TO $14,000
Bitcoin's intense uptrend has continued strong. The cryptocurrency is now navigating towards its next overhead supply region within the mid-to-upper $9,000 region.
It does appear that the cryptocurrency is beginning to build some serious underlying strength, as each bout of consolidation seen throughout the past couple of months has resulted in bull-favoring breakouts.
One analyst is now noting that BTC could be positioned to rally up to highs of $14,000 in the near-term if it is able to surmount the heavy resistance it faces just above its current price level.
BITCOIN APPROACHES MASSIVE RESISTANCE REGION
At the time of writing, Bitcoin is trading up just under 2% at its current price of $9,400.
This marks a notable climb from daily lows of just over $9,000 that were set yesterday after the cryptocurrency initially faced a grim rejection around its current price levels. 14 BTC & 30,000 Free Spins for every player, only in mBitcasino's Crypto Spring Journey! Play Now!
This rejection proved to be short-lived, as buyers quickly stepped up and helped propel the cryptocurrency back up to the mid-$9,000 region.
It is important to note that it has not yet been able to firmly surmount the first key horizontal resistance level it faces at between $9,400 and $9,500. BTC has so far posted 3 rejections at price levels within this range.
BTC also appears to be entering into a massive supply area that has been established over many months.
One analyst spoke about this area in a recent tweet, pointing to a chart showing a range between roughly $9,500 and $12,000.
"Will this supply area hold a 3rd time?" He asked while referencing the below chart.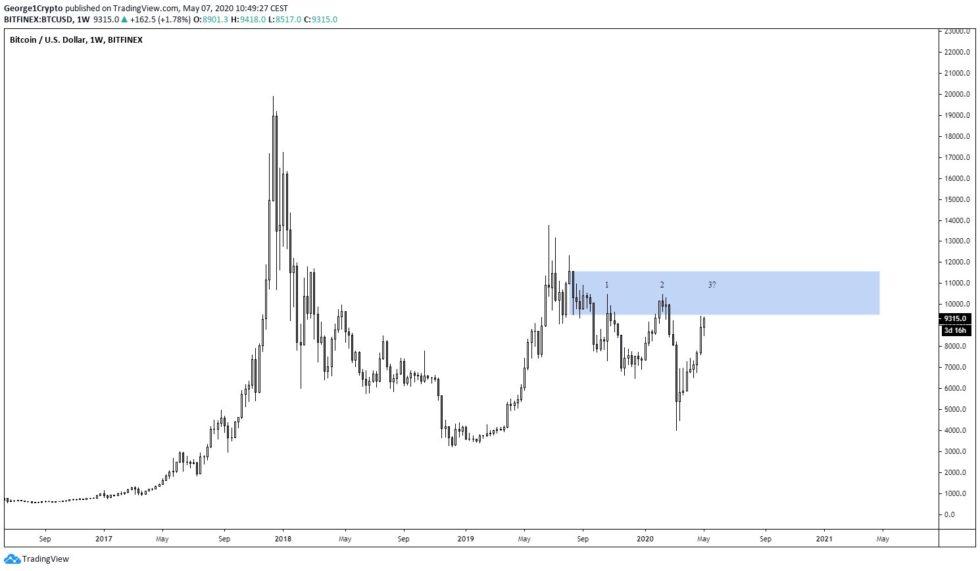 ANALYST: BTC ON TRACK TO TARGET $14,000 NEXT
Another popular analyst mused a highly bullish possibility in a recent tweet, telling his followers that he believes Bitcoin is presently well-situated to move up to highs of $14,000 in the near-term.
He notes that in order for this path forward to come to fruition, it is imperative that bulls step up and shatter the resistance existing between $9,700 and $10,500.
"The last barrier between us and my 14k target is this 9.7k-10.5k region. If we break it now, 14k+ will likely come soon after. If we reject it, we will get one last dip before breaking it. Either way, 14k+ is coming imo," he noted.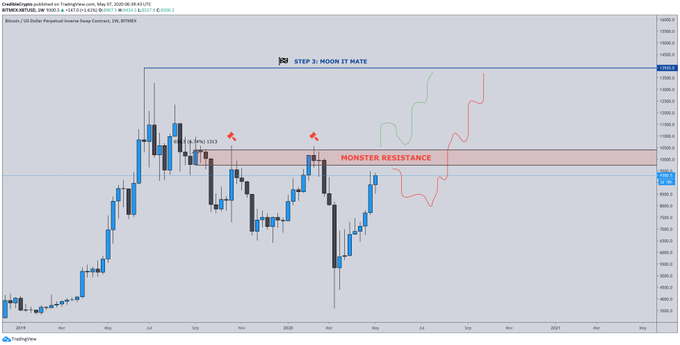 Source: bitcoinist.com