Thank you to everyone who has followed FNet.club over the years. We as a separate team in the company have never been an official FutureNet channel, but we were honored to have such a privilege, despite many channels that certainly no longer exist.
Due to all the inconveniences we were faced, we have decided from today onwards not to bother you with irrelevant information about the company, as long as we do not have anything concrete.
The answers and only answers are what we have all been looking for more than 1 year. While in the past we had video presentations every day about anything by the owners, today we don't even have a written explanation whether the same gentlemen are owners at all!?
Of course, there are still many unanswered questions, and only Stephan, Roman and the people close to them can and should answer. Congratulations to "courage" of all the "leaders" who left the ship much earlier… Let them judge for themselves how real leaders they are.
We consider that our example was positive throughout this period. We wanted to maintain a positive spirit, with the hope that things might change. Contrary to us, we also consider the action of J. Ryan Conley as a positive example, who first took the initiative, but in a negative context for the company. Although different, these examples are positive because the community is above all!
The initiative of J. Ryan Conley
J. Ryan Conley has created a Telegram group (messaging app) in which we members can and should take matters into our own hands.
Please join us in the official FutureNet class action law suit Telegram group and share this link with others. We are asking the owners to make things right or to step down and hand the company over to the members. We are tired of them flaunting their lifestyles while stealing our money. Everyone do not let them hide on social media! Blow up all of Roman, Anna, and Stephan's social media pages until they decide to work with us. They cannot hide from millions of us and there have been already multiple suicides people of FN members because of the harm these owners have caused.

– J. Ryan Conley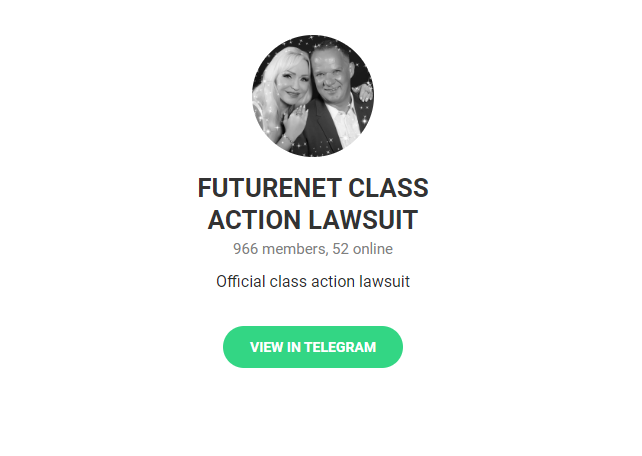 J. Ryan Conley also encouraged and instructed his members, but also all those who feel cheated and betrayed to report this crime that we have all faced.
Here is the information to file your complaint against FutureNet. I encourage you all to take 10 minutes to fill it out as well. Go to: https://www.ic3.gov/complaint/default…

– J. Ryan Conley
Description of Incident:
FutureNet was an MLM business-based social media company was set up by two CEO's Stephan Morgenstern & Roman Ziemian. It brought in over 4 million users who invested in it. The company was selling digital marketing tools, paid to advertise called "ad-packs" and cryptocurrency mining contracts of their digital currency they created called FuturoCoin. They have stolen the money from the users who purchased the mining contracts of their coin and also from the ad-packs.

Information About The Subject(s) Who Victimized You:
1. Stephan Morgenstern FutureNet LLC Abdulla AL Fahed-4, Al Quisais second Office No. 210 Dubai United Arab Emirates stephan@futurenet.club https://futurenet.social/

2. Roman Ziemian FutureNet LLC Abdulla AL Fahed-4, Al Quisais second Office No. 210 Dubai United Arab Emirates ziemianr@gmail.com https://futurenet.social/

If you have any more information that can help lead to the arrest of Stephan Morgenstern, Roman Ziemian, and Anna Piatkowska-Chmiel, please forward info to Ryan Conley.

– J. Ryan Conley