Ethereum on-call: Sell-off paused as calls flood market
Bitcoin's shadow on the larger cryptocurrency market continues to loom large, something exhibited by the market's latest price movements. Following the king coin's massive move over $9,000, most major altcoins buoyed in bullish movement, chief among them being Ethereum, the altcoin market leader. Ethereum climbed over $220, a price point it had not seen since early-March, prior to the events of Black Thursday, and by the looks of it, ETH is looking to maintain its highs.
According to data from Skew markets, the growing Ethereum Options market is gauging a bullish sentiment, one that will at least hold the altcoin's price over the $200 mark. Following the bump on 29 April, correction saw Bitcoin drop down by 4.4 percent and Ethereum by 6 percent. Further, with the quick nature of the incline, a massive correction is likely to be on the cards, yet the Options contracts were looking up.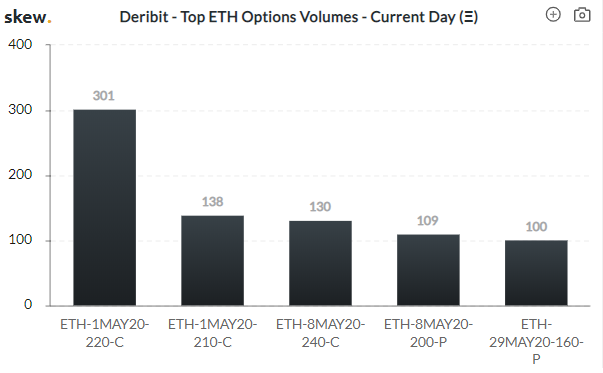 On 1 May, all of the top 5 contracts traded on Deribit, the leading Ethereum Options exchange, were marked as call options i.e. right to sell. Among the options traded, the range of strike prices moved from a low of $210 to a high of $240.
Among the contracts traded, the 1 May and 2 May contracts collectively amassed 448 ETH contracts in volume, much higher than the rest of the field. The rest of the contracts, traded with an expiry of 8 May, had a volume of 190 ETH contracts.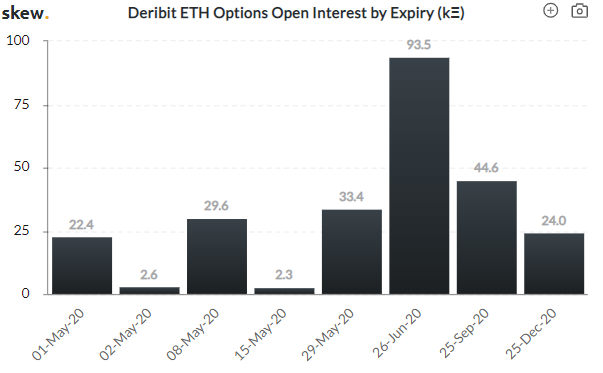 Here, it is important to note the degree of contract expiry, compared to the rest of the year. On 1 May alone, over 22,400 ETH contracts are expiring, in terms of Open Interest [OI], with the price at $213 – that makes a volume of $4.7 million worth of ETH contracts. In less than a week's time, on 8 May, 29,600 contracts will be taken off the shelf.
As the current trend goes, most of those contracts, expiring today and at the end of next week, are marked as calls with the price moderately holding strong, despite the ongoing correction in the Ethereum and larger altcoin market.
Further, the volatility term structure for Ether Options contracts point to a sharp decrease in price fluctuations on the 8 May contracts, following which a bump up by the end of the month will be seen, something that will continue till the end of 2020.
The contracts marked to expire on 8 May, with 29,600 ETH in volume, are priced more closely than the rest of the year. With a correction on the horizon and Bitcoin's push and pull amid the halving, the price of ETH holding is a hopeful sign for altcoin bag hodlers.
Source: eng.ambcrypto.com