DigiByte (DGB) price explodes 930% in under two months
DigiByte (DGB) was propelled into the top 30 cryptocurrencies by market cap on May 5, after recording 930% growth against the dollar in under two months. This sudden growth spurt by DigiByte is all the more surprising considering the coin is not, and has never been, listed on the largest cryptocurrency exchange in the world: Binance.
Vice-chairman of the DigiByte Foundation, Rudy Bouwman, shed some light on the coin's strong performance of late, and explained why not all roads necessarily lead to Binance.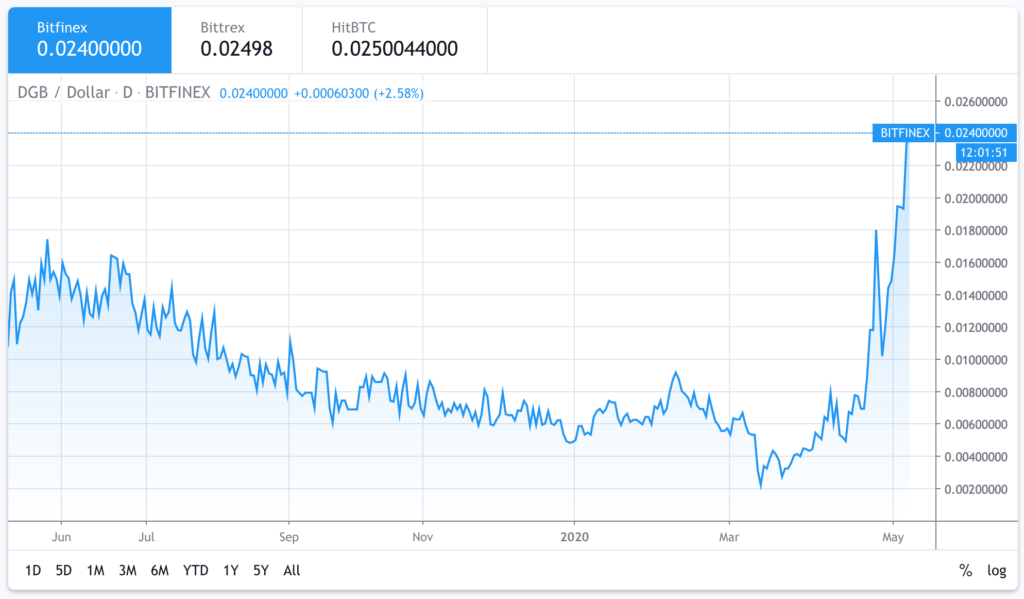 "DigiByte is genuine. No ICO, no company, no manipulations, no bad intentions, no money grabbing. All volunteers. DigiByte is for the community and by the community," – he told.
DigiByte launched in 2014 without an ICO (like Bitcoin). And similarly it was slowly picked up by a community of cryptocurrency enthusiasts who continue to develop it on a voluntary basis.
Perhaps that's why DigiByte took longer to shoot to prominence, suggested Bouwman, who wasn't surprised by the coin's sudden ascension. He said: "This growth should therefore not be a real surprise. DigiByte was expected to outperform the market. It's long overdue."
In the last seven days, DigiByte's trade volume doubled on exchanges, according to data provider CoinMarketCap. And yet all without the help of crypto's biggest exchange.
DigiByte's feud with Binance
DigiByte once had the option to get listed on Binance—but at a price. DigiByte founder Jared Tate claimed the exchange wanted $300,000 to list the coin, plus three percent of all DigiByte tokens. With no premine, the team had few coins to cough up and declined, albeit in a public, messy spat with Binance CEO Changpeng Zhao.
"Every exchange is free to list DigiByte. There is no permission needed, but DigiByte will never pay a listing fee or pay for market-making." Bouwman said, adding, "We also don't have premined coins to provide to exchanges. Some exchanges do have requirements that we just cannot meet and will never meet."
Bouwman urged larger cryptocurrency exchanges to consider that "decentralization" isn't just a buzzword.
Bouwman said, "Big exchanges like Gemini, Binance, Coinbase, etc. need to understand that we are truly decentralized. There is no single entity responsible for the DigiByte project, not even the founder Jared Tate."
According to Bouwman, exposure isn't an issue for DigiByte at the moment. He said, "We're now listed on over 120 exchanges worldwide."
Bouwman still holds out hope that DGB may arrive on some of the larger exchanges soon – but admits it may take some time. "I'm confident over time, even the bigger exchanges will adopt DigiByte. For sure there are ongoing talks, and some are looking promising," he said, adding, "I think we just need a little more patience."
Source: decrypt.co