Crypto Market Sheds $25 Billion With Bitcoin Losing 11%, What Triggered It?
The market after a strong week has made a huge retracement. In the last 24 hours, the market has wiped out over $25 billion. For many cryptocurrencies, this has seen them wipe out their weekly gains. For Bitcoin, the asset has suffered a more than 10% drop.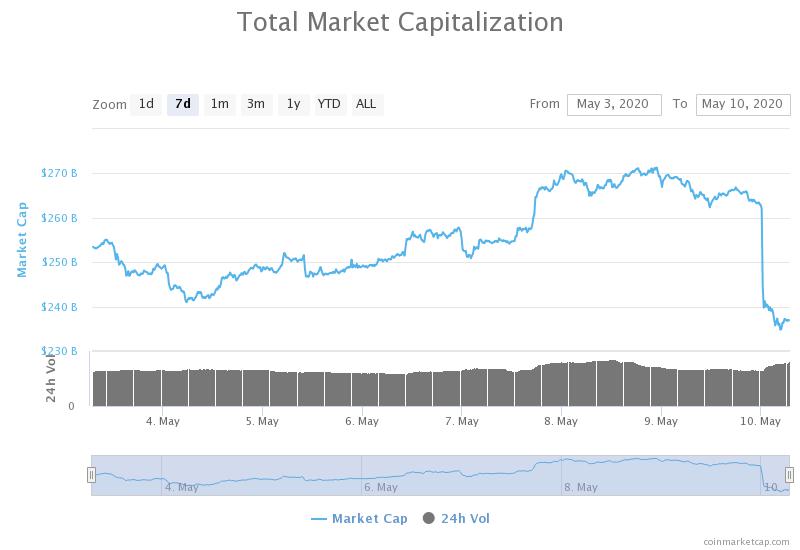 At the time of writing this, Bitcoin is holding up in the mid 8K. This comes just days after reaching $10K, a position that continues to elude the digital asset.
The market drop was predictable. Popular analyst Josh Rager had earlier warned that whales could be in action soon. Predicting when Bitcoin would be able to reach over $10K, Rager warned that there would be a price crash triggered by whales.
This would allow them to accumulate before making a push for the $10K position. With no other development taking place in the last 24 hours, the flash crash in the last couple of hours certainly seems to be their hand at work.
For everyone that bought #bitcoin for the first time this week thanks to the Paul Tudor Jones news, you have now been officially baptized into crypto's world of volatility.

Welcome. pic.twitter.com/QQGMmWMM33

— Joe McCann (@joemccann) May 10, 2020
With the Bitcoin halving just two days away, this will shake out a few investors. A few were already nervous after Bitcoin was unable to remain above $10K, failing to convince its in a strong bullish trend. The latest drop will require a lot of accumulation if Bitcoin is to be bullish through the halving.
Is The Halving Hype Dead?
The $10K position now looks impossible before the halving. Most investors were optimistic that this would be achieved and in turn confirm a strong bullish trend. But while this has been delayed, analysts are advising that the latest drop is in no way a sign of a changing trend.
The crypto community is optimistic that Bitcoin has found its bottom in the $8.5K position and will be making a strong comeback mainly through reaccumulation.
Whales will be buying up at this position and soon we could see Bitcoin turn green and aim for the $10K highs. But unless Bitcoin goes into the halving green, we may see further bleeding post halving as speculators exit.
Source: zycrypto.com