Cardano & ETC's performances don't scream 'altcoin season' yet
May 2020 can be identified as a month of two halves.
During the start of the month, the bullish narrative surrounding Bitcoin was tremendous. The world's largest digital asset had recovered a majority of its losses suffered during the month of March and April, setting the crypto-asset up for a pre or post-halving pump.
However, with only an expected re-test of $10,000 coming to fruition, the trend slowly dried up Bitcoin's momentum and some of the altcoins started to take action.
As many of the market's altcoins ended the month on a high, Coinmetrics analyzed the possibility of an 'Altcoins Season' based on the past month's behavior.
From April to May, the trend significantly shifted in terms of spot volume markets and exchanges for retail investors.
In April, where exchanges such as Coinbase, Kraken, and Bittrex were doing well as fiat-on ramps for retail investors, May was extremely positive for online stock brokers such as Robinhood, Fidelity, TD Ameritrade, and E*Trade, all of whom reported record amounts of retail trader activity.
A routine pattern of behavioral finance, 'overconfident' investors started to shift their attention from Bitcoin and the trend of trading volumes moved from fiat on-ramp exchanges to those organizations that facilitated the trade of riskier altcoins.
The chart highlights the various altcoins' share of spot volumes in the beginning and the end of May, and it can be observed that while Bitcoin and Ethereum's spot volumes decreased, significant upticks can be noted with respect to the trading volumes of Ethereum Classic, Cardano, MATIC, THETA, and OKB tokens. The report added,
"Trading volume has moved into these riskier assets sending a strong signal that alt season has arrived."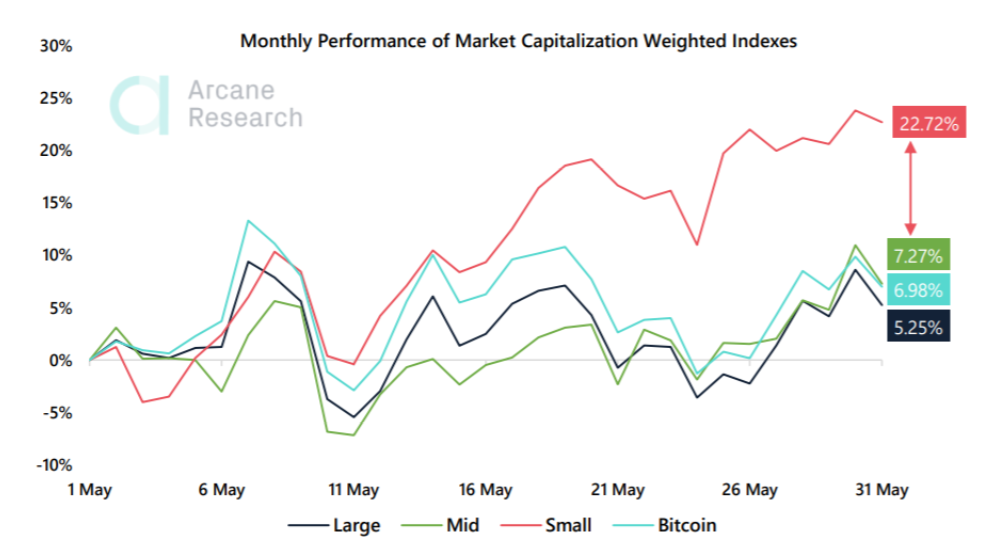 The aforementioned sentiment for small-cap assets' performances was also highlighted by Arcane research's update last week as the Small Caps Index ended the month with a 23 percent hike, outperforming Large Cap and Mid Cap assets.
Has the altcoin season really arrived though?
Before we start putting our bets on another "Altcoins season," let's analyze the tokens that have surged over the month of May. Cardano has been leading the charge in the industry, but it can be speculated that its bullish momentum has likely been due to the imminent Shelley Testnet launch and development.
Ethereum Classic might have pumped because the crypto-asset underwent its hardfork Pheonix recently, an upgrade that has made both Ethereum and ETC completely compatible. Further, OKB tokens surged in volume, mostly because of OKEx's high spot volume trading.
Finally, Theta Network might have received an uptick because it announced that Google is going to be the enterprise validator for its blockchain, signing off on a huge development in May.
Collectively, all these crypto-assets had personal milestones over the last month, milestones that might have helped its price on the charts. So, altogether, even though these crypto-assets can trigger an "altcoins Season," it is a tad bit early to state that it has confidently arrived.
Source: eng.ambcrypto.com