Bitcoin Price Expectations for 2020
With less than a week left for the year of 2019, let us take into the Bitcoin journey this year and what to expect in 2020.
The start of 2019 for Bitcoin investors and enthusiasts was pretty low with the continued effect of 2018's crypto winter. During the Q1 of 2019, investors were waiting on the sidelines for regulatory clarity. However, things got delayed with the U.S. government shutdown up until mid-February.
Thus, the Q1 turned out to be a pretty muted show for Bitcoin enthusiasts as Bitcoin price hovered around $4000 levels. The Q2 2019 started on a high note as the Bitcoin price started skyrocketing towards its northward journey.
this was the best performing quarter as the BTC price surged 200% between April to June 2019. If we see the yearly chart on WorldCoinIndex, the Bitcoin price went from $4000 all the way to hit its 2019-high of $12000.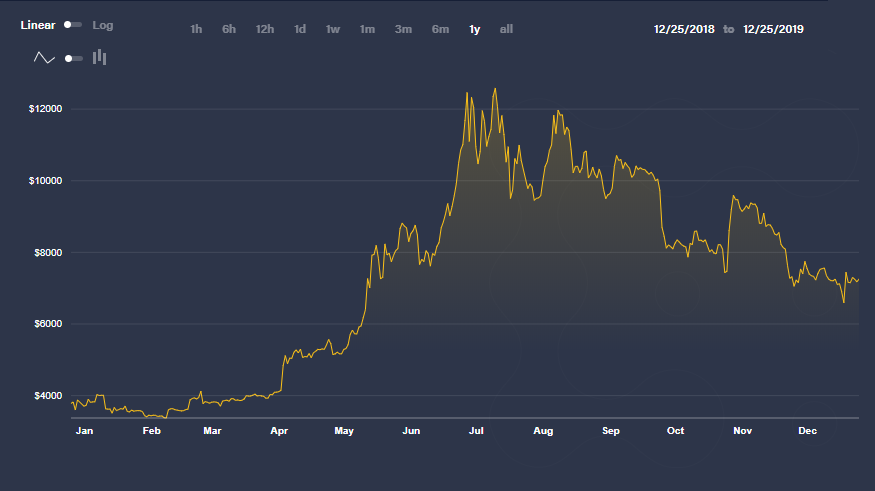 During the same quarter, the market also witnessed rise in the institutional participation as investors running to grab their pie of Bitcoin. Seeing this, financial institutions like Fidelity and ICE's Bakkt accelerated their work on bringing new crypto products to the market.
After a massive rally in Q2 2019, the Bitcoin price was under major consolidation during the third quarter. The BTC price fluctuated majorly around $10,000 during this period. By the end of Q3, ICE's cryptocurrency platform Bakkt launched its physically-settled Bitcoin futures contracts in the market.