Bitcoin Could Hit $20,000 Even as Coronavirus Crushes Global Markets
Bitcoin believers waited for a global economic crisis for years, hoping it would prompt investors to inject hundreds of billions of dollars into the cryptocurrency's small, illiquid market. But the narrative failed big time as bitcoin came face to face with a real market-crisis-in-making, led by the Coronavirus pandemic.
The bitcoin-to-dollar exchange rate fell by more than 66 percent in just 28 days, hit by a global sell-off that crashed stocks, gold, silver, all in tandem. Professional investors sold part of their portfolios to meet their shareholders' redemptions. Individuals got out to protect their retirement savings from steep declines. And some just left because they saw no hope for a market revival.
But then, the market – especially that of bitcoin – has not lost everything.
Bye Bye, Weak Traders
Fundamentally, its crash from $10,000 to $3,900 has wiped out weak hands. Investors with higher risk appetite are still holding onto their tokens or buying it cheaper, according to data provided by HODL Waves. It shows that around 40 percent of the cryptocurrency has not left wallets in the past two years.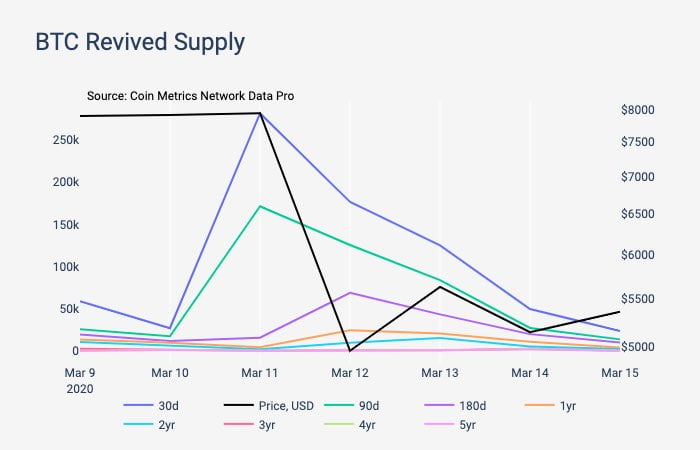 Bloqport, a crypto data analytics firm, drew a similar conclusion, highlighting that bitcoin's price halving didn't deter long-term investors from holding it. On the contrary, the plunge attracted them to buy bitcoin at cheaper rates.
"Despite a ~50% drop, most Bitcoin addresses remain untouched," Bloqport tweeted. This implies that those who bought simply to trade or for short-term profit have been squeezed out. Those remaining are long-term believers with high time preferences. This is incredibly bullish."
Long-term Technicals Hint Rally
As Coronavirus fails to shakedown 'HODLING' sentiment, bitcoin has recovered by more than 40 percent following its steep decline to $3,858. Many could ignore it as a dead cat bounce scenario. But a long-term outlook shows that bitcoin has bounced back after testing a significant support level.
So it appears, bitcoin is trending inside a giant Symmetrical Triangle since late 2017, confirmed by a series of sequential troughs and peaks forming two trendlines that converge at a roughly equal slope. The height of the Triangle is about $18,000.
Bitcoin is testing the Triangle Support (lower trendline) for a pullback, which means it has the potential of bouncing back towards the Triangle Resistance (upper trendline). The price could keep consolidating within the Triangle range for the remainder of 2020, albeit staying below $6,000.
But a breakout above the Resistance could lead bitcoin up by at least $18,000 in the medium-term, according to the textbook definition of Symmetrical Triangles. Such a move could push the cryptocurrency beyond its all-time high of $20,000.
The upside target could receive further support once the Coronavirus pandemic settles for good (the vaccine is 12-14 months away). Bitcoin will then be competing with an oversupplied fiat market, waiting for a great big push to the north.