Best and Worst Responses to J.K. Rowling's Bitcoin Tweet
Crypto Twitter came out in force to try and explain Bitcoin to Harry Potter author J.K. Rowling.
Responses to Rowling's tweet ranged from succinct explanations to outright trolling.
Bitcoin believers may have failed to change Rowling's status as a cryptocurrency Muggle.
'Crypto Twitter' was abuzz on Friday as J.K. Rowling — famed author of the Harry Potter book series — tweeted about Bitcoin (BTC).
As expected, several voices in the 'crypto-sphere' set out to explain the first and foremost cryptocurrency to the author.
BeInCrypto took a look at some of the best and worst Bitcoin primers provided by leading commentators and pundits in the cryptocurrency space.
The first category belongs to those who pointed Rowling to podcasts, books, and pop-culture Bitcoin references. Crypto journalist and host of the "Unchained" podcast, Laura Shin, directed Rowling to an episode of her show. Others suggested the author read up on "The Bitcoin Standard" by Saifedean Ammous.
Another category had respondents channeling the meme culture rampant within Crypto Twitter. These commentators attempted to use themes from the Harry Potter world to explain Bitcoin.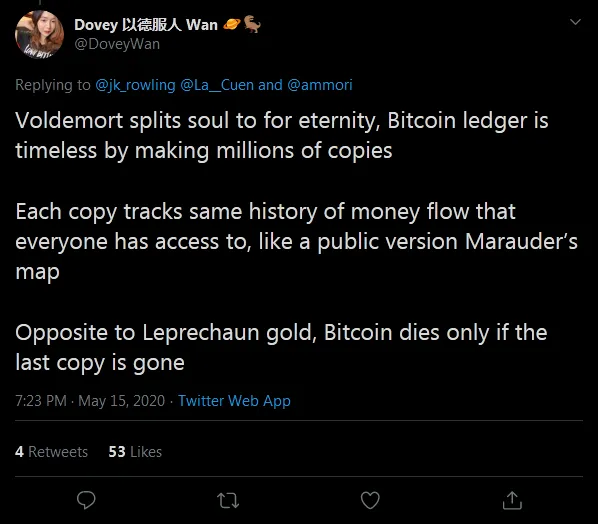 Vitalik Buterin also weighed in on the conversation but found his characterization of Bitcoin as "not backed by anything" drawing consternation from many respondents. The ensuing argument under the Ethereum co-founder's tweet devolved into Bitcoin mining energy usage rhetoric.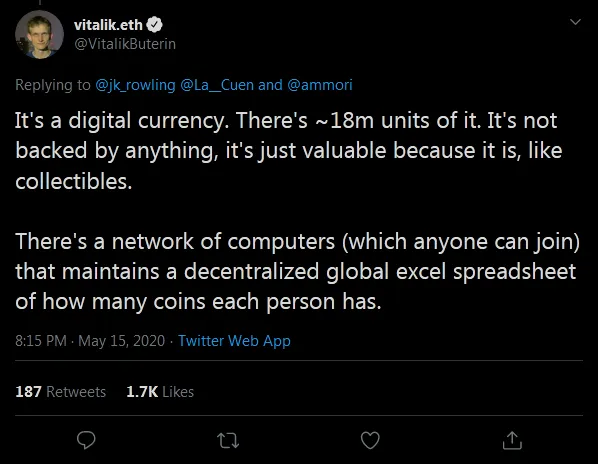 Like Buterin, others on Crypto Twitter also attempted to offer somewhat technical explanations of Bitcoin. However, Rowling's subsequent tweets show that many of these efforts have not succeeded in helping the author understand it.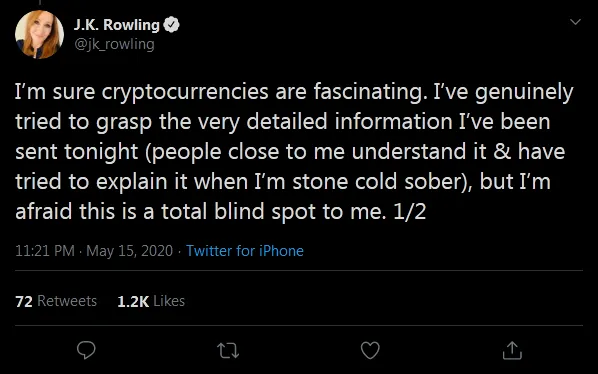 Oddly, one of the best attempts at explaining Bitcoin to Rowling appeared not on Twitter — but Reddit. Blockstream CTO and BTC dev Greg Maxwell, writing in the Bitcoin subreddit, offered a simple primer on Bitcoin covering trustlessness, privacy, and censorship-resistance.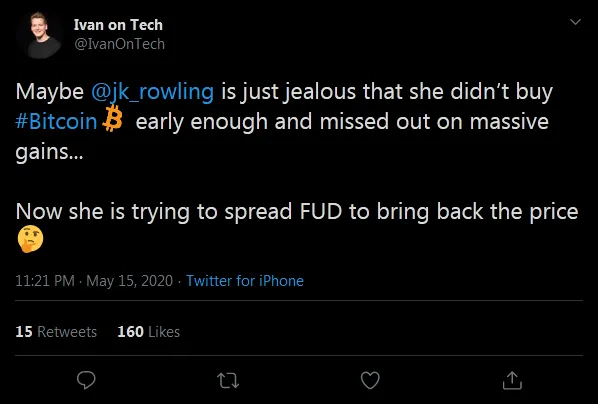 source: beincrypto.com