Basic Attention Token and Brave browser
If you are in the cryptocurrency space you probably heard of the new browser that everybody starts using and promoting nowadays, and you may ask your self why suddenly everyone interested in that browser particularly?
THE ANSWER IS BRAVE PAY PEOPLE MONEY TO DO SO.
Brave is a privacy-focused, secure web browser that blocks ads and tracking by default. A Brave feature called Brave Rewards allows people who use Brave to contribute BAT to the sites they visit.
How to join Brave Browser Referral program?
First you need to be an owner of a website with a registered domain name, a Youtube channel, Twitch channel or a Twitter account. then you can follow the next steps to become a brave browser publisher and start earning BAT tokens on each person download Brave browser from your referral link.
How to becoming a verified publisher for brave browser:
Register an account at Brave Creators website.
Register an account at Uphold and finish your KYC verification.
Link your account at Uphold to your account at brave creators website.
Add your YouTube channel, twitch channel or your website to your Brave Creators account and wait until your website or your channel get verified by Brave Browser team.
After you get your channel or your website verified by brave browser team you will get your promotional link, you can start sending people to download brave from your link.
You can ask your channel or website fans to tip you with BAT tokens to earn more.
Each download from your promotional link is tracked by Brave Browser systems and you will only get paid for a download when a user downloads and use the browser at least for a period of one month, so it takes a lot of time to get those downloads counted.
What does BAT stand for and what is it?
It is a utility token based on the Ethereum technology that can also be used as a unit of account between advertisers, publishers, and users in a new, blockchain-based digital advertising and services platform. The token is not a digital currency, security or a commodity.
BAT is an ERC20 token, and can be stored in ERC20 compatible wallets. ERC-20 tokens are tokens designed and used solely on the Ethereum platform. They follow a list of standards so that they can be shared, exchanged for other tokens, or transferred to a crypto-wallet.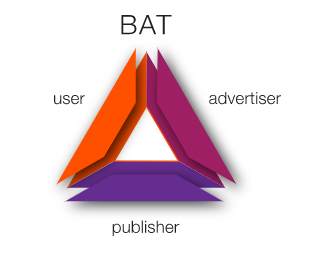 So the next time you see someone asking you to DOWNLOAD and test BRAVE BROWSER you should know that he or she gets paid for that.