A Record $30 Billion Bitcoin Traded In A Day Since March'20 As BTC Spikes Past $9,000
After a rough start to Q2 2020, the Bitcoin market is back raging after a spike above the $8,700 resistance set the coin past the $9,000 mark. At its high in the early trading hours in the Asian market, BTC/USD hit $9,434 on Coinbase as the spot traders closed the huge CME gap on futures.
The sudden spike in BTC's price set the futures volume to a record high of $33 billion on Wednesday, representing over 3 times growth in daily volumes traded over the past month.
Over $30 billion of Bitcoin Futures traded in a day
After blasting past $8,000 after weeks of testing resistance levels at $7,400, the price of Bitcoin took less than a day to reach the $9,000 milestone. However, it's the volumes that have got the community excited as both the reported spot volumes and futures market volumes skyrocketed to yearly highs on Apr. 29.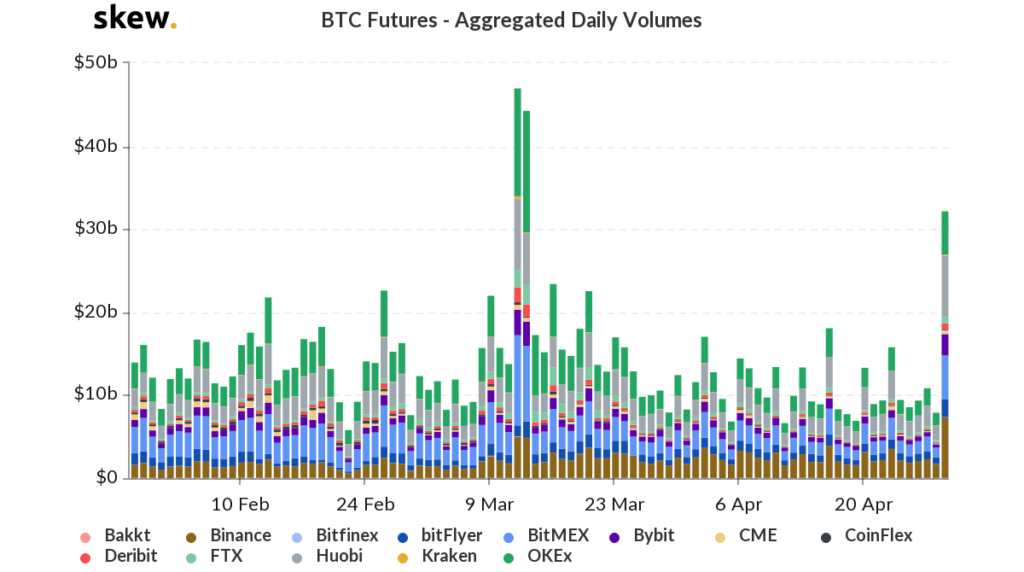 According to data by Skew Markets, Huobi, and Binance crypto exchanges leads the market in the perpetual contracts traded over the past 24 hours with over $10 billion futures traded – Huobi ($10.92 bn), Binance ($10.47 bn). BitMEX is losing ground to the top exchanges as the "leading" futures platform registered $7.53 billion on Wednesday.
BitMEX loses over 50% market share in six months
According to data compiled by The Block researcher, Larry Cermak, BitMEX troubles have been evident in the past few months as its dominance in BTC markets fell drastically since September 2019. According to the chart below, BitMEX had 41.3% market share in September – larger than the next three exchanges combined (OKEx, Huobi, and Deribit).
BitMEX has been drastically losing market share in the last 6 months. By the end of November, BitMEX had 41.6% of the total open interest and now only less than 21%. So they lost ~50% of their market share now. Eventually if you don't innovate, you will be overtaken pic.twitter.com/khT62RwoRo

— Larry Cermak (@lawmaster) April 30, 2020
However, due to the emergence of Binance exchange in the margin trading markets, the March 12-13 shut down of BitMEX and its persistent reluctance to innovate the exchange has lost half of its customers in six months. Since the March 12th fiasco, over 5% of the volume was transferred from the exchange to its competitors.
Now the exchange sits behind the market leader OKEx (26%) with only 20.9% of the total market share.