$10K Bitcoin Price Back in Play? Key Metric Hints at Next Supercycle
Bitcoin (BTC) price continues to grow week in and week out, as another 9% has been added to its value since last Sunday.
However, with the block reward halving being just over two weeks away, and mining difficulty set to increase another 5% in little over a week, is the bull market now upon us? Or will the halving be another non-event much like other hyped up narratives like Bakkt, institutional money entering, or the VanEck Bitcoin ETF?
Today, I want to look at a couple of different scenarios that I am watching for in the week ahead.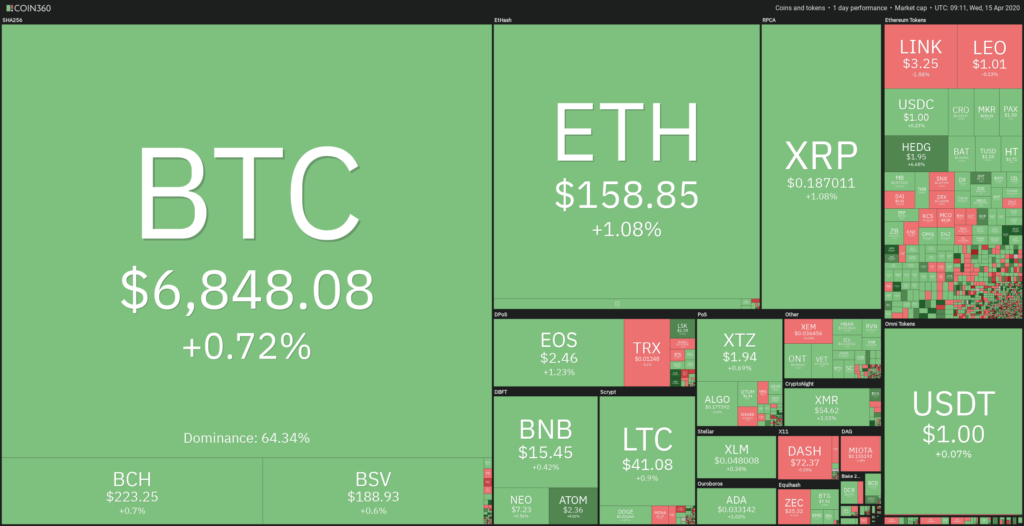 The top of the channel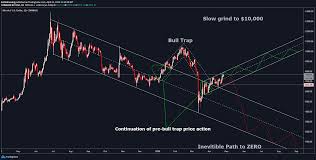 Taking a look back at last Sunday's analysis, I shared two possible outcomes I was looking at. The inevitable path to zero versus the slow bullish grind to $10K.
As can be seen from the daily chart above, Bitcoin is following the green path and is currently sitting at the top of the ascending channel. As such, it's reasonable to expect that should the slow and steady upward path continue, we are due for a small pullback to one of the two price levels.
The channel's moving average is around $7,300. Or, should this fail, the support of this channel sits around $6,600. Holding either of these levels will still firmly plant $8,000 as a reasonable target to expect by this time next week.
However, this ascending channel was drawn to reflect a continuation of the pre-bull trap price action. As such, there is another scenario that could be playing out, which plants $10K Bitcoin as a target as early as next week.
The bottom of the channel
BTC USD daily chart. Source: TradingView
In this channel, it plants the current price about $500 above the support of $7,120. This would put overhead resistance first at the moving average of $8,440 and then as high as $9,800.
As such, watching both of these scenarios to see which is first invalidated could give us a clearer picture of where the Bitcoin price could close by the end of the week, and $10,000 is entirely possible should this play out.
Either way, I am leaning towards the upside, as tomorrow should see the much anticipated bullish crossover on the weekly moving average divergence convergence (MACD) indicator.
The weekly MACD indicator looks set to cross bullish in a week from tomorrow.
MACD's most reliable signal
BTC USD weekly MACD chart Source: TradingView
I'm sure regular readers of my analysis are familiar with my views on the weekly MACD indicator, but I still like to recap when I mention it. The MACD line is set to cross bullishly through the signal line tomorrow. This is typically followed by a power move from the king of cryptocurrencies, Bitcoin.
In March 2017, when the weekly BTC candle opened at $971, ushering in a bullish supercycle that saw the price top out after an impressive 2,000% rally to $20K in just over nine months. The MACD then signaled the start of the great crypto winter in January 2018 with a bearish cross.
On February 4, 2019, the MACD was at it again, with another bullish cross that led to another monster leg up some 400% before signaling a bear trend in August 2019.
Thus, if you solely traded Bitcoin based on the weekly MACD crossing, you'd be considered a genius. Therefore, when I see a bullish cross on the table, I get excited about the next potential move for Bitcoin.
Is a Bitcoin breakout Imminent?
BTCUSD hourly chart Source: TradingView
Lastly, in this week's analysis, the lower time frames such as the 1-hour chart for Bitcoin are also signaling that a breakout is imminent.
After Bitcoin's 10% leap on April 23, BTC/USD has spent three days consolidating, caused by buying demand matching the selling pressure. As this continues, it sets the stage for a breakout in the next 24 to 48 hours, particularly if the hourly candle closes above $7,700, expect $8K as the next level of resistance. This opens the door to $9,800 before the end of the week.
Conversely, if support fails at $7,550, the next buying opportunity should be between $7,120-$7,300.