VeChain Price Analysis: 22 September
The cryptocurrency market saw losses on Monday, as traditional stock markets plummeted sharply. This could be related to news reports that large banks were involved in money laundering transactions.
VeChain flipped from bullish to bearish momentum over the weekend.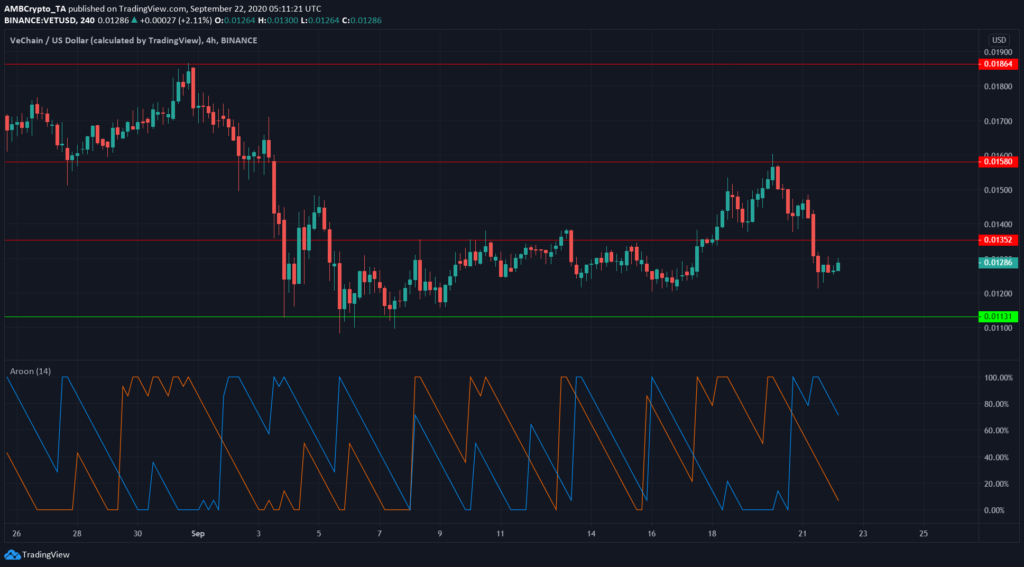 VeChain appeared to have initiated an uptrend last week, as seen on the Aroon indicator. The Aroon Up (orange) stayed well above Aroon Down (blue) but that flipped over the weekend.
VET showed momentum to the downside following the most recent drop and would have to reclaim resistance at $0.0135 to show any signs of bullishness.
The next level of support for VET lies at the $0.11 region if the $0.0125 zone is lost.
VeChain announced a few days ago that it would be the sole blockchain technology provider in the China Animal Health and Food Safety Alliance after joining as one of the council members.
Source: eng.ambcrypto.com
We are sorry that this post was not useful for you!
Let us improve this post!
Tell us how we can improve this post?