Michael Cohen bets Trump has secret 'pocket pardons'
Former President Donald Trump may still have some pardons up his sleeve.
That's what Michael Cohen, Trump's former personal attorney, theorized Sunday during an interview on MSNBC, saying the 45th president could have left office with undisclosed pardons just in case he or members of his family ever face federal charges.
"I think Donald Trump actually has given himself the pardon," Cohen said as he walked host Alex Witt through his thought process following Trump's eleventh-hour wave of pardons last week. "I think he also has pocket pardons for his children and for Rudy [Giuliani], and it's already stashed somewhere that, if and when they do get indicted and that there's a criminal conviction, federal criminal conviction brought against him, that he already has the pardons in hand."
Cohen, who lost his law license after he pleaded guilty to multiple felonies in 2018, added that he searched the U.S. Constitution and could not find anything that says pardons must be disclosed to the public or the media.
"That to me is more in line with what George Conway is trying to say about how Donald Trump doesn't care about the law, how he will skirt the law, how he will do anything to benefit himself, and that includes even, you know, doing something like this with a pocket pardon," he said, alluding to a Washington Post op-ed by George Conway, the husband of former White House counselor Kellyanne Conway.
A pardon would not protect against state charges nor impeachment. Trump faces a Senate trial set to start early next month.
Cohen also said he is "certainly somebody of great interest and a lot of help" to Manhattan District Attorney Cyrus R. Vance Jr., who is conducting a criminal investigation into Trump and his business operations, as well as President Biden's Justice Department and Congress.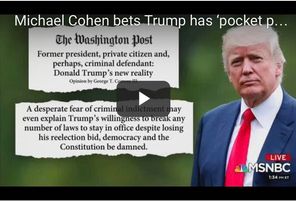 Source: washingtonexaminer.com
We are sorry that this post was not useful for you!
Let us improve this post!
Tell us how we can improve this post?